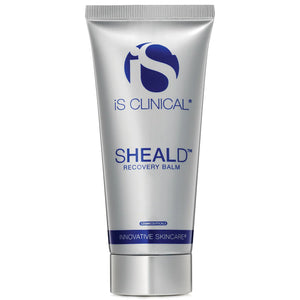 SHEALD Recovery Balm is a moisture-rich formula that dramatically replenishes hydration to dry, sensitive, or compromised skin. This fortifying remedy works overtime to help support the skin's function while soothing, curative botanicals relieve discomfort of dry, distressed, and post-procedure skin. Clinically proven to provide environmental protection.
Benefits
Provides antioxidant-rich protective barrier
Softens and hydrates dry, sensitive skin
Helps with tightness and distressed skin
Excellent protective moisturizer for harsh cold and/or dry climates
KEY INGREDIENTS 
Bioidentical lipid molecules necessary for healthy barrier function. 
Glycerin
Vital nutrients to help protect the skin's barrier.  
Hyaluronic Acid
One of nature's most powerful hydrators.  



Vitamin E
Highly effective moisturizer and antioxidant that helps protect against the visual effects of photodamage.