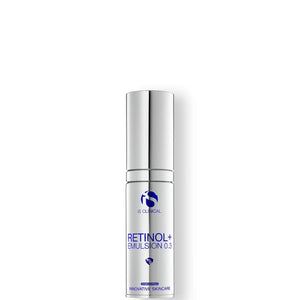 Our highly active, fast-acting Retinol+ Emulsion 0.3 is a mildly resurfacing formula that combines Retinol of botanical origin with a proprietary blend of Bakuchiol, other powerful botanical boosters, antioxidants, and Extremozymes to help reduce the appearance of fine lines and deep wrinkles while evening skin tone and texture for a smooth, radiant complexion. This nourishing form of Retinol is encapsulated with bio-identical lipids, providing easy delivery to the skin while improving its resilience and overall long-term complexion.
Benefits
Helps reduce the appearance of fine lines and deep wrinkles
Helps diminish the appearance of uneven skin tone, texture, and blemishes
Helps protect from environmental stressors with Extremozyme®

 

technology
Helps smooth, soften, and brighten complexion
Helps to increase the appearance of skin firmness and elasticity
Helps provide antioxidant protection to defend against oxidative stressors
Key Ingredients
Retinol
A well-delivered botanical form of Retinol that boosts overall skin condition through its vitamin and antioxidant properties.
Bakuchiol
An ingredient that is even more powerful when combined with Retinol, as it shares the benefits but with higher skin tolerability.
Ectoin
An Extremozyme found in several plants thriving in high-salt environments that helps protect from environmental stressors.
Vitamin C: Bio-available
A stabilized form of Vitamin C helps protect against environmental stresses and delivers brightening benefits.