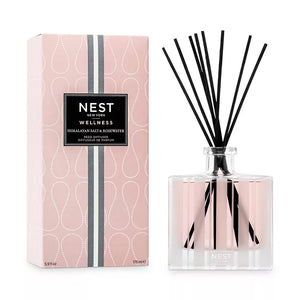 This Reed Diffuser features a serene blend that leaves you feeling comforted and relaxed. Expertly crafted with the highest quality fragrance oils, it releases exquisite scent slowly and evenly into the air for approximately 90 days, delivering continuous fragrance, uninterrupted. The intensity and reach of the fragrance can be customized based on the number of reeds used.
Fragrance Family: Fresh

Scent Type: Fresh Aquatics

Key Notes: Rosewater, Salted Amber, Geranium

Diffuser Length: Approximately 90 days

Fragrance Description: Ease your mind and soothe your spirit with notes of rosewater, geranium, salted amber, and white woods.