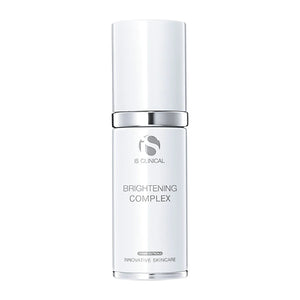 Brightening Complex is a distinctive formula that safely and effectively brightens the appearance of the skin with beneficial moisturizing properties. Utilizing an innovative blend of proprietary brightening ingredients and pharmaceutical-grade botanicals, this high-performance formula concentrates on not one or two but all five mechanisms that contribute to the look of uneven skin tone.
Benefits
Helps improve the appearance of uneven skin tone
Rejuvenates the look of aging skin
Increases hydration of the skin
Provides controlled exfoliation
Hydroquinone-free
Application
Apply a small amount to clean skin, smoothing over face and neck or areas affected by pigmentation irregularities.
Key Ingredients
Glycerin
Vital nutrients to help protect the skin's barrier.
Natural antimicrobial that assists in brightening the overall complexion.
Diminishes the appearance of both new and existing areas of uneven skin tone while working to brighten the overall complexion.Vitamin C
Scientifically advanced, stabilized form of Vitamin C, which helps to protect against the visual effects of photo-damage while providing calming properties.