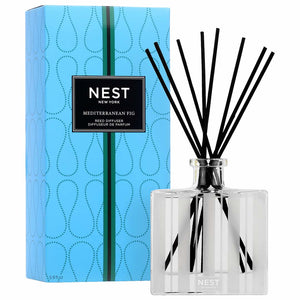 What it is:
 A reed diffuser that captures the lush aromas of the Mediterranean landscape with crushed fig leaves, blue cypress, and essence of turquoise waters.
Fragrance Family:
 Earthy & Woody
Scent Type:
 Earthy Greens & Herbs
Key Notes:
 Fig Leaves, Blue Cypress, Violet
Fragrance Description:
 Reminiscent of the lush Italian countryside, fig leaves and blue cypress are mingled with the essence of turquoise waters and dewy violet. NEST Reed Diffusers are designed to fill your home continuously with a lush, memorable fragrance. The formula releases fragrance slowly and evenly.
Diffuser lasts up to 90 days.