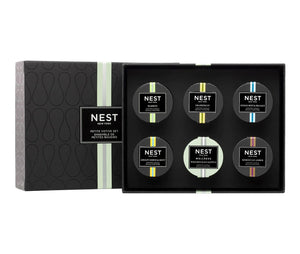 Discover our bestsellers with this beautifully packaged set featuring six (6) mini votives of our most beloved scents including Bamboo, Grapefruit, Moroccan Amber, Ocean Mist & Sea Salt, Amalfi Lemon & Mint, and Wild Mint & Eucalyptus.

Bamboo Candle: a fresh and modern scent with flowering bamboo mingling with a variety of white florals, sparkling citrus and fresh green accords.
Grapefruit Candle: a zesty and effervescent candle that blends pink pomelo grapefruit and watery green nuances with lily of the valley and coriander blossom.
Moroccan Amber Candle: a spicy scent with notes of Moroccan amber, sweet patchouli, heliotrope and bergamot with a hint of eucalyptus.
Ocean Mist & Sea Salt Candle: a scent that combines the refreshing essence of a gentle ocean mist with hints of sea salt, white tea and coconut.
Amalfi Lemon & Mint Candle: a bright mix of zesty lemon and orange bergamot are blended with freshly picked mint and a hint of driftwood essence to evoke the scent of Italy's Amalfi Coast.
Wild Mint & Eucalyptus Candle: a fresh scent that blends the essence of both wild mint and eucalyptus with basil and Thai ginger to help clear your mind and awaken your senses.